For more than 40 years the Bastidas team of architects has been offering a unique vision of architecture with a wide range of professional services in Mallorca, coherently integrating disciplines such as architecture, design, interior architecture, landscaping, urban planning consultancy and project management.
With the support of a highly committed team, Bastidas Architecture has successfully designed exceptional projects in Mallorca, Barcelona, Paris, Marrakech and New York. Driven by outstanding creativity and professionalism, the Bastidas Architecture team has helped to bring to life some of the island's most exciting and prestigious projects in architecture, interior design and landscaping. Our team of experts undertakes each project in a personalised way in order to materialise the vision of our clients. The starting point is undoubtedly the expectations and vision of our clients, from which we are able to create tailor-made environments. When developing projects, in Bastidas Architecture we attach great importance to the existence of a harmonious relationship between the work and the natural environment and the use of the highest quality standards. We combine perfect functionality with maximum comfort, responding to the demands of the 21st century.
Bastidas Architecture is a guarantee of an integral professional assistance: we will be your reliable architects' office in Mallorca, we will accompany you from the conception phase of the project, during its development and until the delivery of the work. We like to plan down to the last detail in order to pursue a coherent design and allow the flow of creativity, innovation and excellence.
Our clients receive exactly the services they require: consult our portfolio of architectural and interior design services in Mallorca and choose the services you require. To bring your idea to life, we have a team of professionals who stand out for their technical expertise, creativity and passion for perfection in every detail. Undoubtedly, our proposals are unique, we will listen to your needs and turn them into a creative and functional project.
We achieve our goal by always maintaining close contact with our clients and the collaborators involved in the project. Thanks to our vast experience, with more than 40 years in the sector, as architects in Mallorca we have a wide network of collaborators to carry out your project efficiently.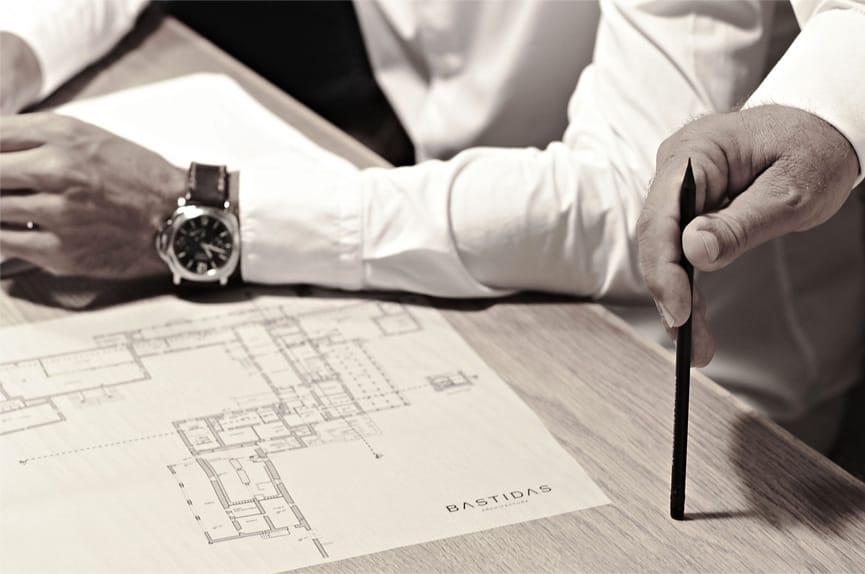 Sergi Bastidas
Founder. Planner.
Gerard Bastidas
Partner. Architect.
Boris Bastidas 
Partner. Management & marketing.
Rocío Ruiz
Office manager. 
Paula Sotelo
Office assistant.
Toni Gros
Architect. Landscape designer.
Yolanda Las
Draftsman.
Santi Domínguez
Draftsman. Landscape designer.
Quantity surveyor
Roberto Merlo
Lucas Vinyals
Enrique Moreno
Installation Engineer
Tomeu Nadal
Project Managers
Enrique Moreno 
Photography
Nando Esteva
Gerard Bastidas
Aerial photography
Gastón Piccinetti
Design & web development
drbb.studio